---
35th Annual WILD Summer Institute
Friday June 25 - Saturday, June 26
online
Trilingual (English, Español, Portugues)
What is WILD Summer Institute?

WILD is an inspirational educational program that provides women with the leadership vision, confidence and skills to become more effective leaders and organizers in the Massachusetts labor movement and community organizations. This year's program begins on Friday evening, June 25 and ends on Saturday, June 26 after graduation. The weekend includes workshops on leadership development and understanding the effects of oppression. There are also opportunities to network with other labor sisters and have a lot of fun!
Information and Cost
Tuition: $40 recommended cost (this is what it costs us to put on the event), sliding scale available. NO ONE WILL BE TURNED AWAY FOR INABILITY TO PAY.
Leadership workshops:
This year our leadership workshops ask us to think about what changed during the historic events of the past year, for better and for worse. We don't want to go back to normal - because normal wasn't working for so many of us. Participants will develop their leadership skills and think about how we can build a better future for ourselves and our coworkers.
---
35º Instituto Anual de Verano Wild
Viernes 25 de junio al sábado 26 de junio.
en línea
¿Que es el Instituto de Verano WILD?

WILD es un programa educativo inspirador que proporciona a las mujeres una visión del liderazgo, la confianza y las habilidades para convertirse en líderes y organizadoras más efectivas tanto en el movimiento obrero de Massachusetts como en las organizaciones comunitarias. El programa de este año comienza el viernes 25 de junio y finaliza el sábado 26 de junio después de la graduación. El fin de semana incluye talleres sobre el desarrollo del liderazgo, y a comprensión de los efectivos de la opresión. ¡También habrá oportunidades para relacionarse con otras hermanas sindicalistas y divertirse mucho!
Información y Matrícula: El precio recomendado es de $ 40. (Esto es lo que nos cuesta organizar el evento). PAGA LO QUE PUEDAS. A NADIE SE LE NEGARÁ LA ENTRADA POR INCAPACIDAD DE PAGO.
Talleres de liderazgo: Este año, en nuestra clase de liderazgo reflexionaremos sobre lo que cambió durante los eventos históricos del año pasado, para bien o para mal. No queremos volver a la "normalidad", porque la normalidad no estaba funcionando para muchas de nosotras. Las participantes desarrollarán sus habilidades de liderazgo y pensarán en cómo podemos construir un futuro mejor para nosotras y nuestros compañeros de trabajo.
---
35º Instituto Anual de Verão WILD
Sexta-feira, 25 de junho a sábado, 26 de junho.
em linha
O que é o Instituto de verão WILD?
WILD é um programa educacional inspirador que fornece às mulheres uma visão de liderança, confiança e habilidades para se tornarem líderes e organizadoras mais eficazes no movimento trabalhista de Massachusetts e em organizações comunitárias. O programa deste ano começa na sexta-feira 25 de junho à noite, e termina no sábado, 26 de junho, após a formatura. O fim de semana inclui workshops sobre desenvolvimento de liderança e compreensão dos efeitos da opressão. Também há oportunidades de interagir com outras irmãs trabalhadoras e se divertir muito!


Informação e Custo

Taxa de inscrição: $40 taxa recomendado (Isto é o que nos custa para realizar o evento). PAGUE O QUE PUDER. NINGUÉM TERÁ A ENTRADA NEGADA POR INCAPACIDADE DE PAGAR.


Workshops de liderança:
Este ano, em nossa aula de liderança, refletiremos sobre o que mudou durante os eventos históricos do ano passado, para melhor e para pior. Não queremos voltar ao normal - porque o normal não estava funcionando para muitos de nós. As participantes desenvolverão suas habilidades de liderança e pensarão sobre como podemos construir um futuro melhor para nós e nossos colegas de trabalho.
---
Be a WILD fashionista!
Get a new WILD facemask and support WILD while you protect yourself. Whether you are at a union rally or doing your shopping, you will look your best with this great new fashion accessory! And it is union-made.

WILD facemask
The facemask is free with a donation of $25 or more to WILD. Offer good until supplies run out.
Read WILD's statement on the ongoing epidemic of racist violence on our News page.
RECENT EVENTS
WILD in the Winter
On March 13, some 50-plus women took part in our WILD in the Winter program, "You Can't Pour from an Empty Cup: Keeping Ourselves and Others Healthy". They came from all over Massachusetts and from nine other states. Thanks to Zoom, we were able to share our program with people as far away as the West Coast. They were caregivers, utility workers, teachers, healthcare workers and more, from a variety of unions, workers' centers and community organizations.
At a time when many of us were feeling worn out and beaten up by everything going on around us—the ongoing COVID-19 pandemic, the other epidemic of violence against African Americans and other People of Color in this country – the self-care theme resonated deeply with many women. Taking our cue from the words of Audre Lord, "Caring for myself is not an act of self-indulgence, it is self-preservation, and that is an act of political warfare", we put together a day of informative workshops, animated discussion and fun.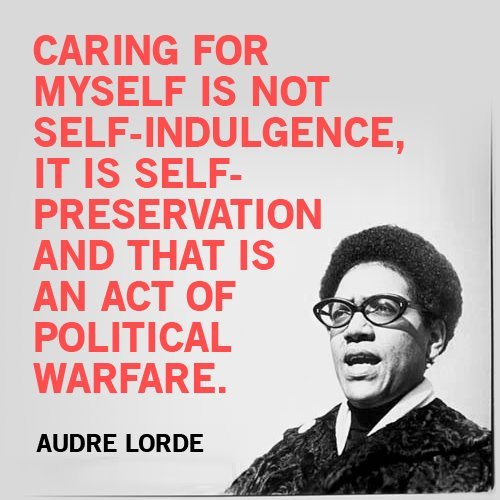 Audre Lord quoute
The morning began with a moving talk from Boston City Councilor Lydia Edwards. Councilor Edwards is herself a WILD alum, and thus knew her audience well.
Her talk was followed by 2 workshops, each of them conducted bilingually. One was on "Constructing Self Care", and was led by Milagros Barreto of MassCOSH. The other was "Refilling our Cups: How do we address our burnout individually and collectively?" facilitated by Melissa Markstrom from SHARE-AFSCME and Prachi Goyal from the Pioneer Valley Worker Center. PowerPoint slides of the 2 workshops can be downloaded using the links above. At this time, they are available in English only.
After a short break, we reconvened in small groups for discussions of the tactics and practices we use to take care of ourselves, and the steps we can take to take care of our communities during these hard times.
The day ended with a rousing zoom "party".
---
PAST EVENTS
2020 WILD Summer Institute
WILD held out first ever online Summer Institute on June 27. The theme was "Women taking charge during the pandemic: We will survive!" , and workshop topics focused on issues that women are facing because of the COVID epidemic. It was a great success. Read more about it on the Summer Institute 2020 page.
See U.S. Rep. Ayanna Pressley's opening keynote speech on our Facebook page
---
The
Mass Coalition of Domestic Workers (MCDW)
of which WILD is a member, hosted a Live Show, "Awakening the Power of Domestic Workers" on December 16.
WILD "Thank you" Meet and Greet: October 29, 5:30-8:30 at the WILD office. Women and a few men from the WILD community came together on the evening of October 29 and shared a delicious meal, and speeches. Several WILD participants gave moving testimony about the way the Summer Institute has impacted their lives.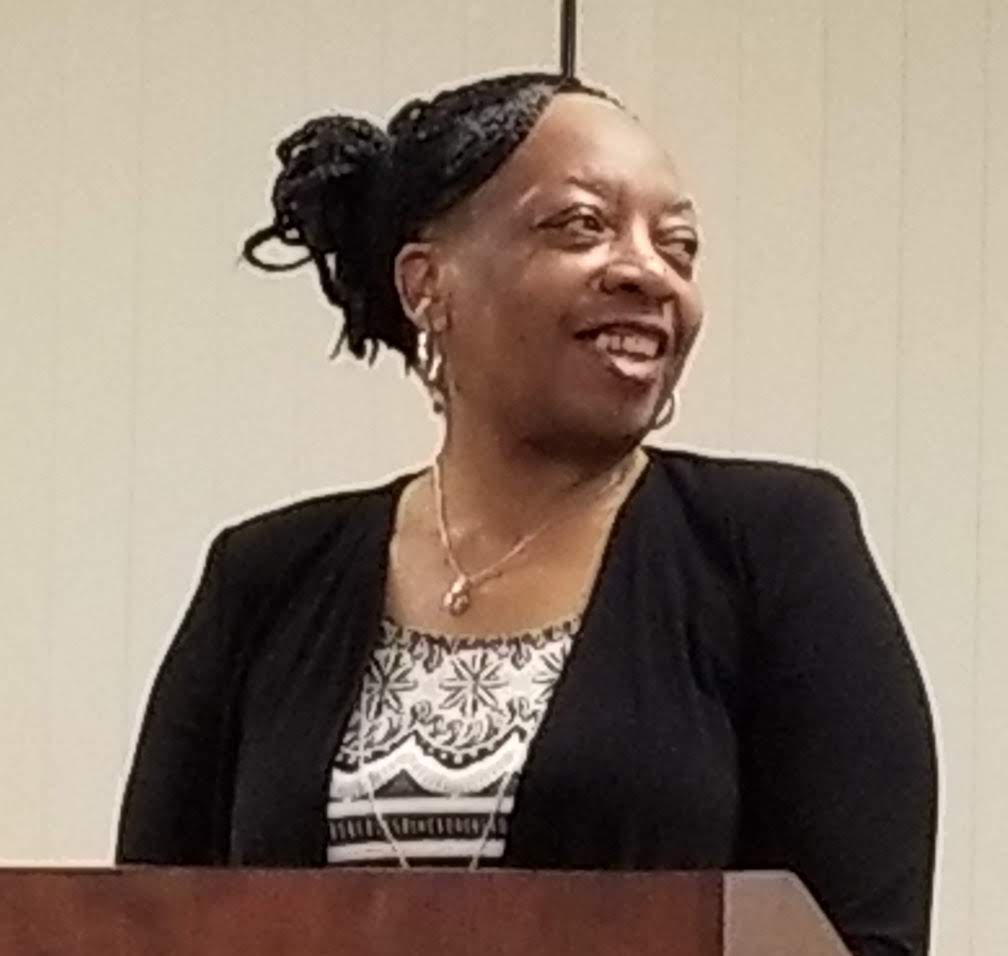 Maria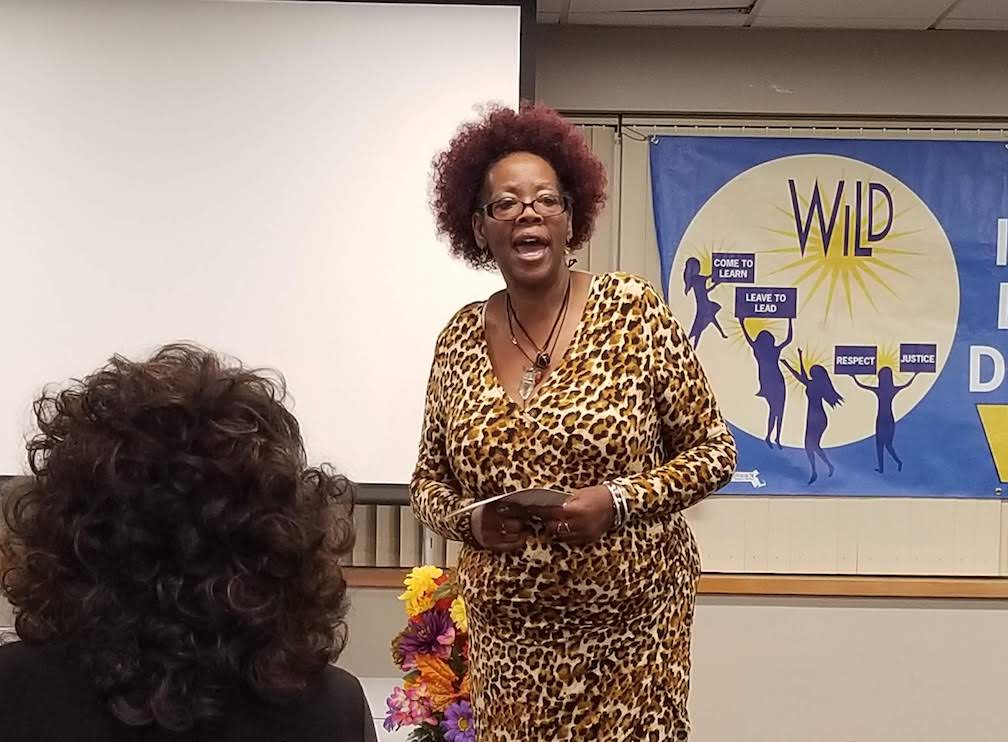 Terry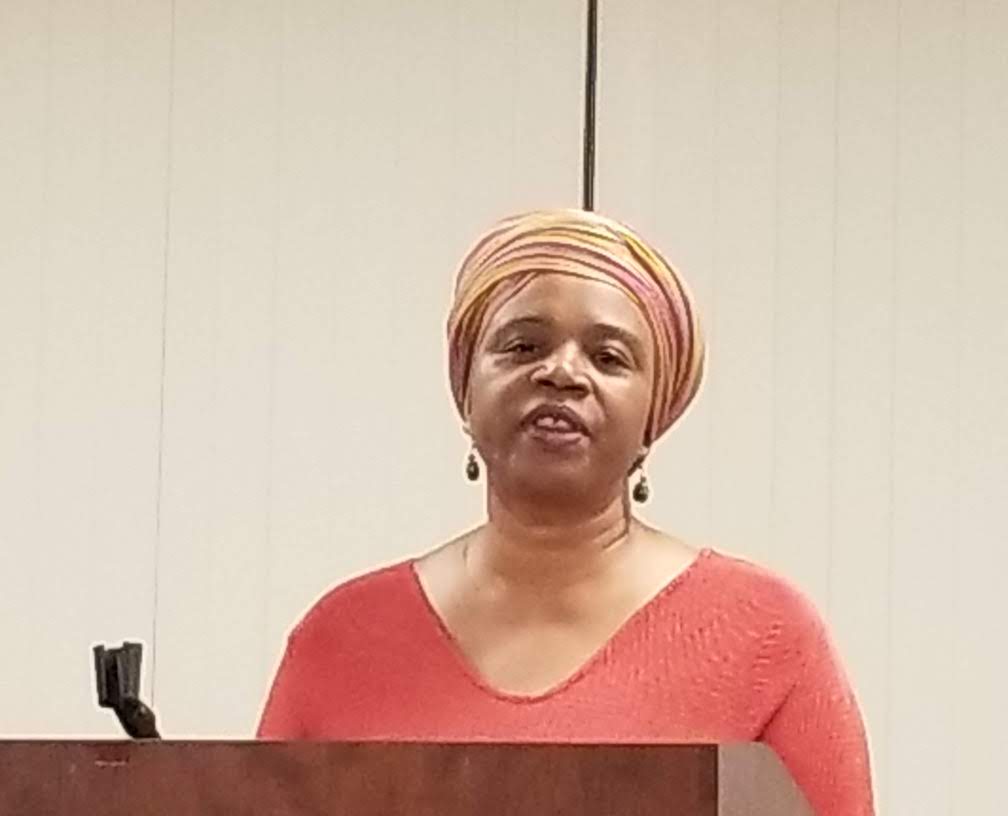 Milka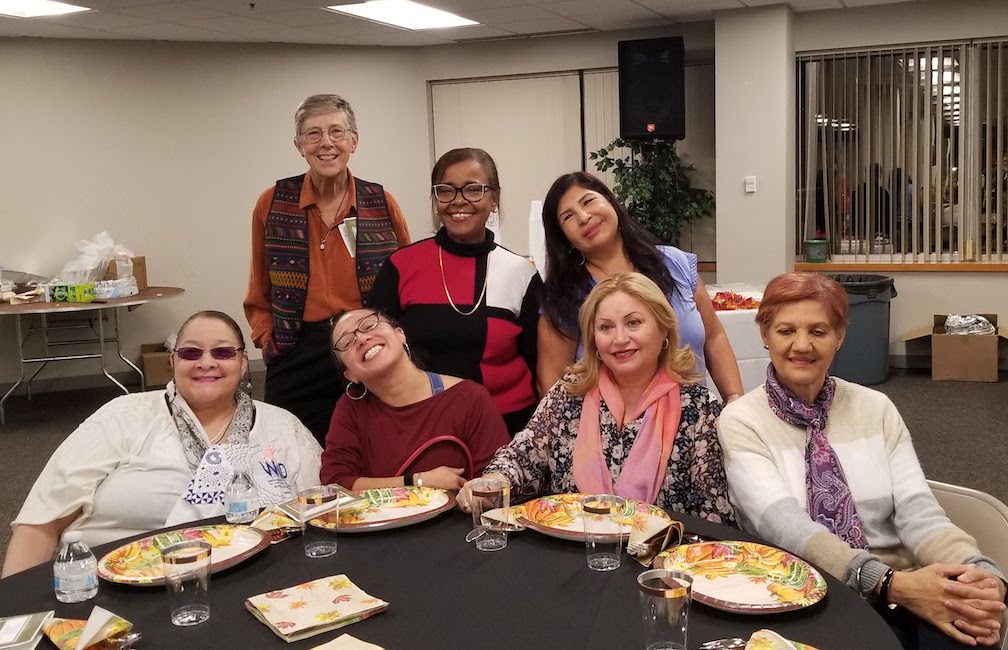 group
---
2019 WILD Summer Institute
held June 21, 22 and 23 at Worcester State University
Our 2019 Summer Institute was one of our most successful ever. Over 130 women attended, from close to 20 different unions and several non-profit organizations, workers centers, and community groups.
There were workshops in English, Spanish and Portuguese. Excellent trilingual interpretation was provided by Mass Translations.
See more on the Summer Institute 2019 page
Here are a few photos: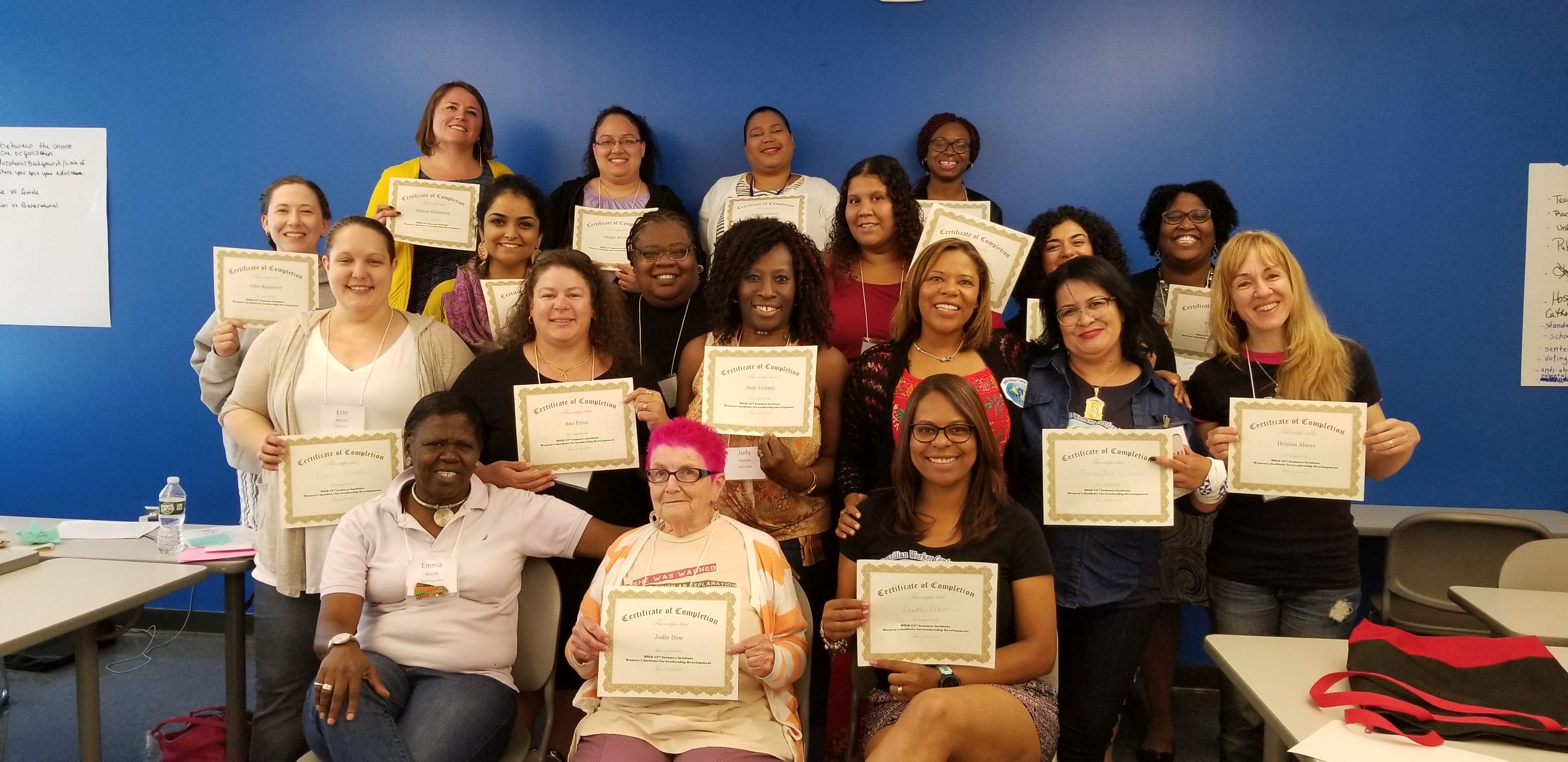 Leadership class
Leadership class taught by Erin and Prachi
Anneta and Fatmata's Leadership class
Leadership class taught by Anneta and Fatmata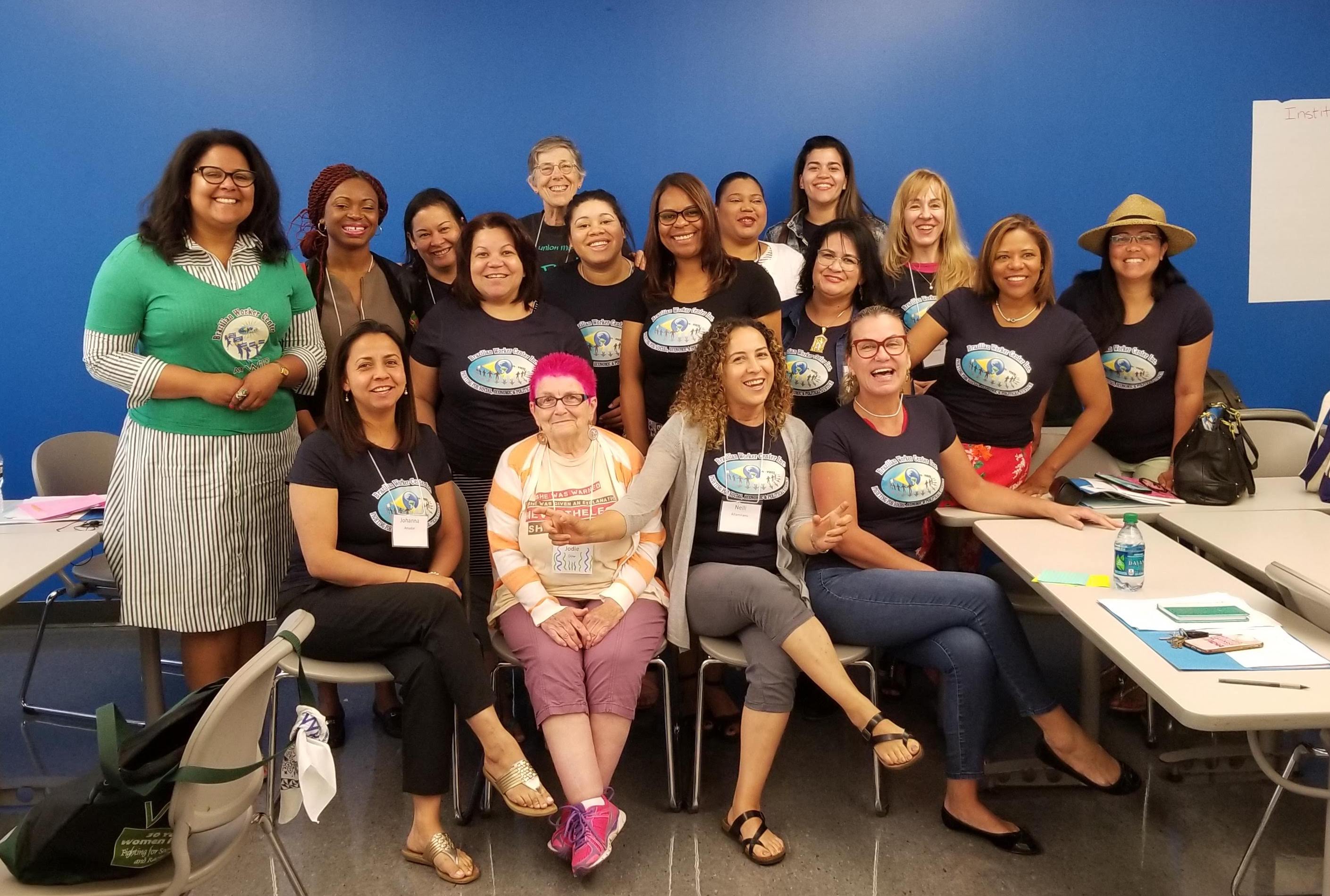 Trafficking class
Workshop on Human Trafficking taught by Nat and Tess
You can see more photos from the Institute on the Summer Institute 2019 page and on our Facebook page