WILD's Mission

Advocate for a vision of a labor movement that includes unions and all other organizations and people who join together to fight for the rights of working people and for social justice;

Strengthen women's influence in the Massachusetts labor movement by increasing the number and diversity of women leaders, and providing them with tools to be effective organizers in their unions and organizations;

Increase democratic participation in the labor movement, particularly among women and people of color;

Help build a labor movement that operates from an activist rank-and-file perspective;

Build awareness of and stimulate debate about issues of racism, sexism, class, homophobia and other issues of oppression within unions and the larger labor movement.

History of WILD

WILD was founded in 1986 by a group of women labor activists and labor educators affiliated with the Massachusetts AFL-CIO, the Coalition of Labor Union Women, the University of Massachusetts in Amherst and Boston and Southeastern Massachusetts University.

WILD offered its Summer Institute in 1987, co-sponsored by these five organizations. The first full-time staff person was hired in 1989. Early efforts focused on developing the Summer Institute to support activism through training, recruiting a diverse group of women participants, translation of the curriculum into Spanish (1992) and the development of a comprehensive teacher training program, based on popular education principles (1994).

In 1991, WILD incorporated into an independent non-profit organization, with a Board of Directors recruited from WILD activists and program participants. Recruitment, training, and internal structural changes in the early 1990s enabled WILD to transition from a primarily white-run organization to a multi-racial organization with a multi-racial leadership body.

Over the years, WILD has also broadened its original labor constituency to include non-union working women and activists from community-based organizations that focus on economic justice issues. Building bridges between labor and community groups, increasing the diversity of WILD leadership, volunteers and program participants, and encouraging political and labor organizing remain priorities for WILD.
UPCOMING EVENTS
WILD Events
Volunteer Meetings: Would you like to volunteer for one of WILD's Committees? To help plan next year's Summer Institute? To help with fundraising? There are many opportunities to get involved with WILD. Please contact the office at 617-328-1696 or by email at ruthella@wildlabor.org to find out about the next Volunteers Meeting.
WILD "Thank you" Meet and Greet: October 29, 5:30-8:30 at the WILD office 108 Myrthle Street, Quincy. Come to an evening to celebrate WILD's community and supporters. Refreshments will be served. Program TBA. Download Save the Date flyer here.
2020 WILD Summer Institute Scheduled for June 26-28 at Worcester State University. Watch this page for updates!
Other Events
(The events below are organized by WILD collaborators and allies. We think they would be of interest to WILD women.)
Know Your Rights! Join the Mass. Coalition for Domestic Workers (MCDW) for the launch of their media campaign and leadership program for domestic workers to champion their rights, respect and dignity. (WILD is a member of the Steering Committee of MCDW). October 16th, 6-8pm at the Nonprofit Center, 89 South Street, Boston. You can download a flyer for the event here.
Visions of Labor: Film and Worker Voices: The UMass Labor Center invites you to join us November 8-10 for an exciting event ¨ Visions of Labor: Film and Worker Voices". We will watch and discuss labor films along with worker-created videos. You'll also have the opportunity to get a sneak preview of a major labor film in-progress and hear from the film's award-winning director. You can download a flyer here.
RECENT EVENTS
2019 WILD Summer Institute
held June 21, 22 and 23 at Worcester State University
Our 2019 Summer Institute was one of our most successful ever. Over 130 women attended, from close to 20 different unions and several non-profit organizations, workers centers, and community groups.
There were workshops in English, Spanish and Portuguese. Excellent trilingual interpretation was provided by Mass Translations.
Here are a few photos: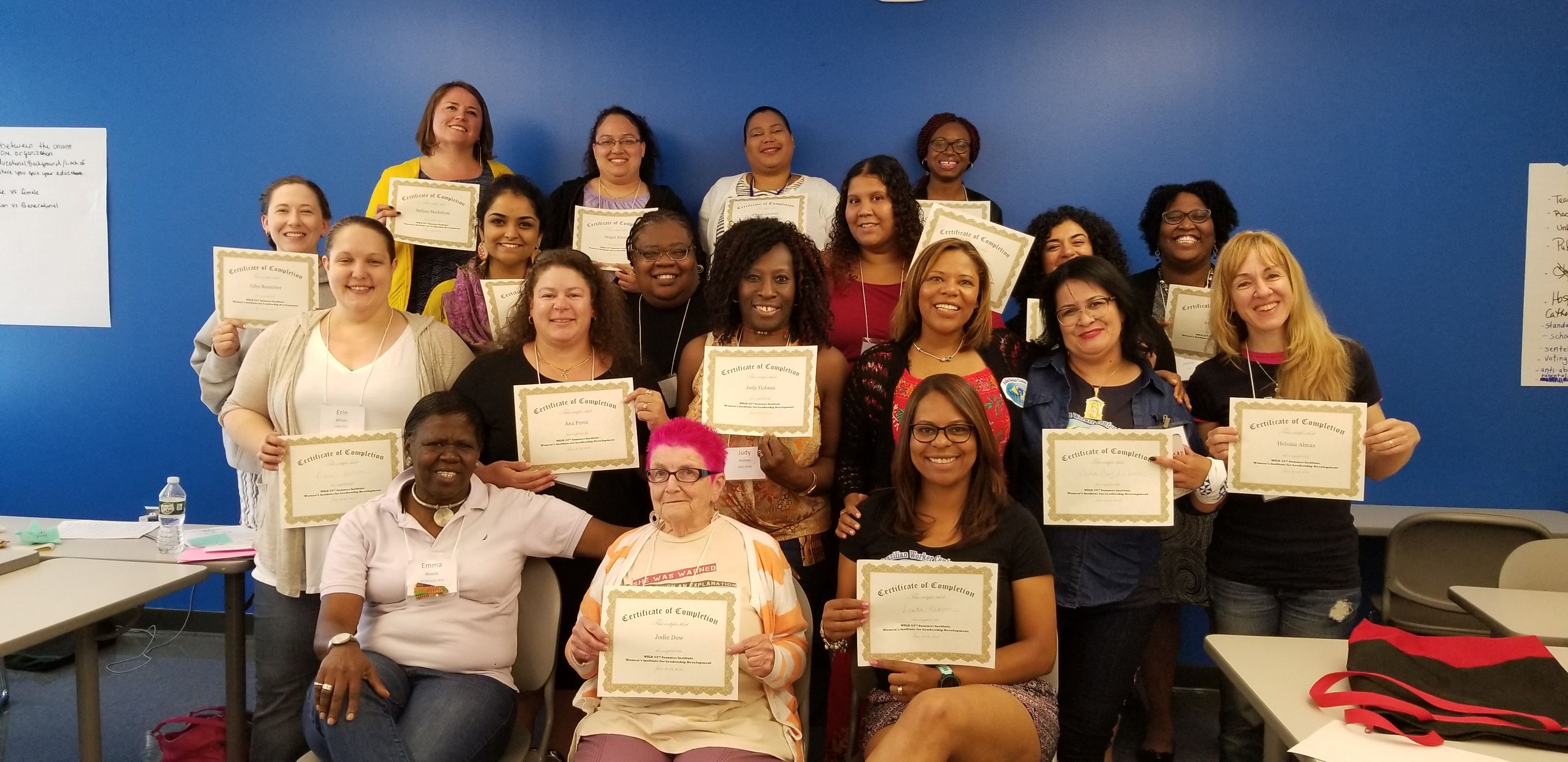 Leadership class
Leadership class taught by Erin and Prachi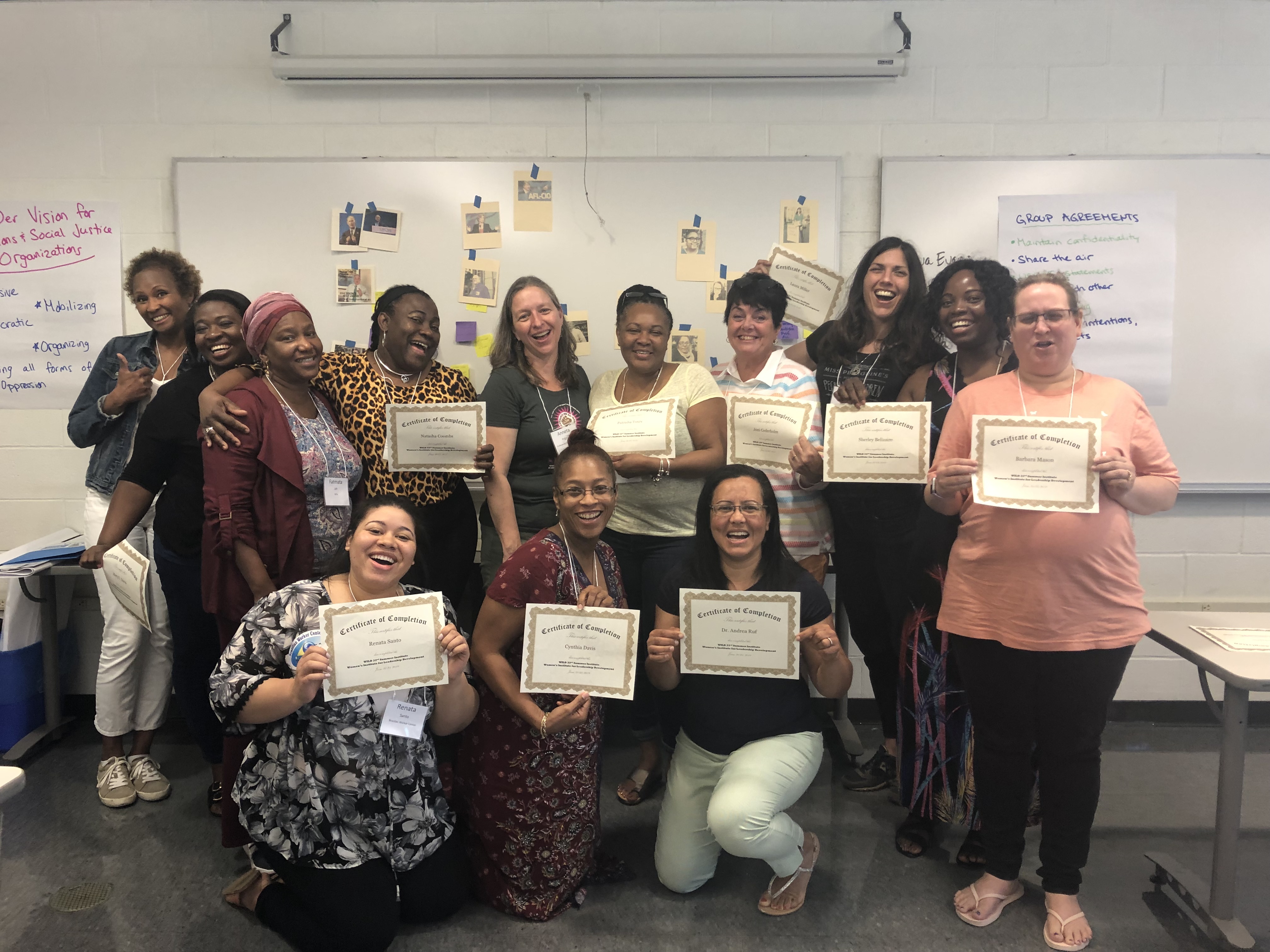 Anneta and Fatmata's Leadership class
Leadership class taught by Anneta and Fatmata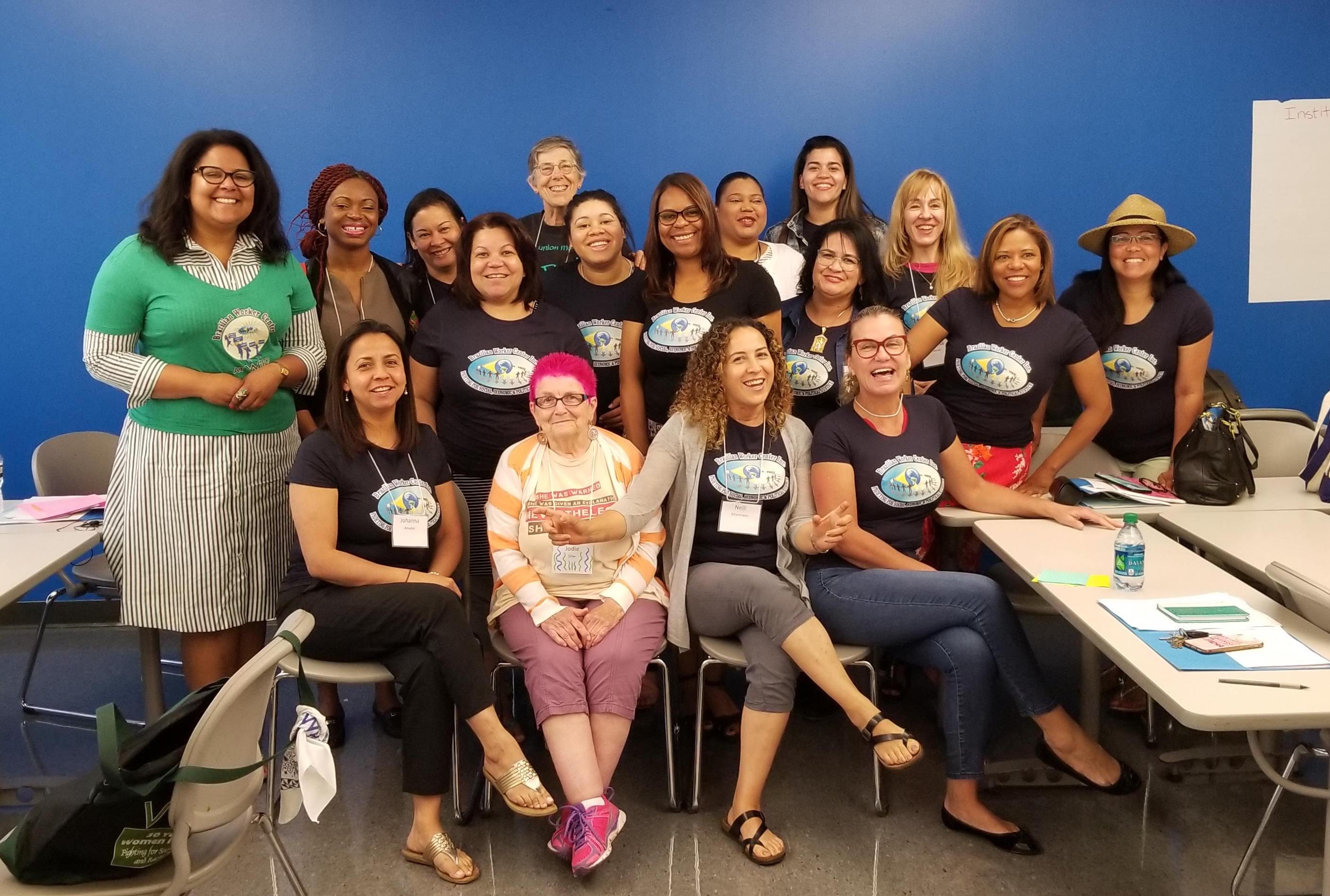 Trafficking class
Workshop on Human Trafficking taught by Nat and Tess
You can see more photos from the Institute on our Facebook page